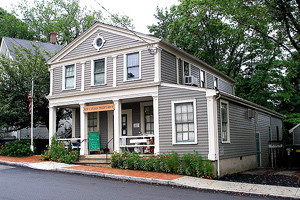 Whether ordinary or offbeat, you can donate items from your closet, garage or attic and make a difference in someone's life. It's the perfect way to recycle!
The New Canaan Thrift Shop accepts donations of gently used articles of clothing, accessories, jewelry, books, sporting goods, small appliances, housewares, china, silver, paintings, crockery, toys, games, and small home furnishings.  Please be sure your donations are boxed or bagged.
A community treasure since 1930, the New Canaan Thrift Shop is housed at its landmark corner location at 2 Locust Avenue. The New Canaan Thrift Shop is one of the oldest volunteer-run thrift shops in the country and all proceeds directly benefit the patients of Visiting Nurse & Hospice of Fairfield County.
The New Canaan Thrift Shop is open from 12 noon until 4:00 p.m., Monday through Friday.  Donations have been put on hold temporarily due to space constrictions – Please call call 203-966-2361 for more information on donations.
To volunteer, or to donate to the Thrift Shop, please call the New Canaan Thrift Shop at 203-966-2361 or call our Volunteer Coordinator at 203-762-8958, ext. 316.
---
To make a safe & secure online donation, click on the button below:
OR
Call us at 203-834-6341 ext. 304 to speak with someone in our Development Department to make your donation.
OR
Mail a check to:
Visiting Nurse & Hospice of Fairfield County
Attn: Development Department
22 Danbury Road
Wilton, CT 06897
Please make your check payable to:  Visiting Nurse & Hospice of Fairfield County
---
Click Here to review our Privacy Policy regarding your personal information.