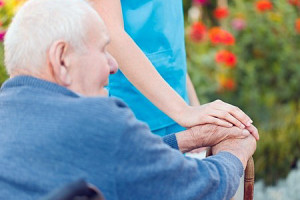 Over the years, Visiting Nurse & Hospice of Fairfield County has helped thousands of individuals and their families cope with terminal illness in comfort with peace and dignity. Our caring professionals focus on relieving physical and emotional pain so that patients can spend precious time with family and friends.
We recognize that when one person is ill, the whole family is in crisis. At Visiting Nurse & Hospice of Fairfield County, our team of nurses, social workers, spiritual care providers and volunteers are there for you and your family to create a care plan that is tailored to your specific needs, including:
Managing pain and symptoms to provide comfort
Providing counseling and companionship
Offering spiritual comfort and guidance
Helping with personal care such as bathing, dressing and meal preparation
Arranging for medical equipment and nutritional guidance
Supporting caregivers with respite services
Providing bereavement support
Providing in-patient hospice care at a skilled nursing facility and/or hospital
The Hospice Team includes:
Skilled Nurses
Home Health Aides
Social Workers
Spiritual Care Provider
Massage Therapists
Physical Therapists
Occupational Therapists
Speech Therapists
Trained Hospice Volunteers
Hospice Medical Director
Grief and Bereavement Counselors
If you, or a loved one, is struggling with a life-limiting illness, and are actively pursuing treatment, our Palliative Care program may be appropriate for you. Should comfort become the focus of care, hospice services can be continued by the same compassionate team of professionals.
You don't have to do it alone. Visiting Nurse & Hospice of Fairfield County makes complex situations manageable and handles the details so that patients can spend meaningful time with friends and loved ones in comfort, with peace and dignity.